Undergraduate Career Resources
Resume
Resume Feedback
Once you have used the above resume advice, templates, and samples on this page to build or update your resume, the following steps are recommended by the Lerner Career Services Center to ensure that your resume will stand out to employers:
Receive feedback from Lerner Career Services staff and career mentors:

Visit walk-in hours for resume reviews from 2:00pm to 4:00pm Monday through Friday (Fall & Spring Semesters) at the Lerner Career Services Center (1 South Main Street Newark, DE 19711.)
Schedule an appointment with a career counselor through Handshake: Paul Rollison – Graduate & Alumni, Steven Caulfield – Undergraduate & Alumni.
Connect with one of over 1,000 UD alumni in the UD Career Advising Network who offer phone-based resume feedback through 30 minute meetings.

Receive feedback through VMock:

If you do not already have a free account, simply enter your udel.edu email address and click the "complete registration" tab and confirm your account.
Upload a PDF version of your resume.
VMock will give instant feedback on your format, bullet construction, and skills.
You will receive a numerical score in addition to personalized feedback. A score of 75 or more means you are ready to upload your resume to Handshake.
Resume Handshake Approval Process
Business students using Handshake to apply for any jobs, internships, or other positions in the recruiting system must first have their resumes approved by Lerner Career Services staff. The approval process is in place to help ensure you are effectively presenting your skills and background to employers. Once your first resume is approved, all future resumes and documents will be automatically approved for use in the system.

Upload your resume to Handshake by going to "View Your Profile" and then "Public Documents."
Your resume will be reviewed for approval based on the criteria outlined in Resume Guide & Tips (PDF).
If your resume is declined, you will be provided with commentary for improving your resume and directed to VMock for further feedback.
We make every effort to be timely in the approval process, but it may take up to two business days to review and provide feedback on/approve your resume. Be aware of job and internship application deadlines, and begin the resume approval process well before an application is due.
Cover Letter
Cover Letter Guidelines
Cover letters show your interest in a position and showcase your writing abilities. They link your resume and background to the position, showcasing your knowledge of the employer and highlighting relevant skills. Cover letters should be personalized for each position. Hiring managers may read hundreds of cover letters in a year and can easily spot a generic or poorly prepared letter.
Cover Letter Outline
First Paragraph

The main purpose of the first paragraph is to explain why you are interested in this position and employer while getting the reader's attention.
Explain why you are interested in this position and employer. What in the position description got you excited about the opportunity?
If someone has referred you to the organization (a current employee, friend, or family member) then you should include his or her name in the first sentence.

Middle Paragraph(s)

What 2-3 experiences connect your skills to those listed in the position description? What makes you a good fit?
Tell your story: describe your qualifications for the position using specific examples from academic, work, volunteer, leadership, athletic, and student organization experiences.
Connect your accomplishments, skills, and knowledge directly to the position and employer.
Focus on key areas of your background and do not simply repeat statements from your resume.

Final Paragraph

Can you summarize your interest/qualification in one statement?
Give a final statement of your interest and qualifications.
Thank the employer for their time and consideration.
Interviewing
Interview Guidelines
Beyond the resume and cover letter, interviews help employers learn more about how your academic background, skills, and experience match the requirements of a job opening. At the same time, employers are evaluating your communication skills and other traits to determine if you will fit with the organizational culture. You want to answer the employers' questions competently, smoothly, and professionally. You also want to use the interview as a means of learning more about the position and the organization to see if you would be happy and productive in the job. Remember that the interview is the main determinant of whether or not you receive a job offer. Preparation is the key!
Remember to:

Research the organization and position.
Review common interview questions.
Prepare your 30-Second Commercial to help you in answering "tell me about yourself."
Know how to appropriately answer them using examples and the STAR method (PDF).
Dress for success! Review tips for appropriate interview attire.
Prepare a few questions to ask the employer.
Confirm the address and the name of the people with whom you will be meeting, including the name of the person you should ask for upon arrival. Be sure to map out where you are going and account for traffic.

Schedule a practice interview through the UD Career Advising Network. Over 900 UD alumni have volunteered to help students prepare for interviews!
Use Interview Stream to practice interview questions on your own.
Use Handshake to schedule a career counseling appointment to practice answering interview questions with a Lerner Career Counselor.
Research the Organization & Position
For the Organization:

Read through the company's website.
Understand the following about the company:
Code of ethics, regulations, and rules

Industry terminology
Clients and revenue base
Understanding the company's non-discrimination policy (ex. does it include sexual orientation, gender identity or expression, other identities that are not federally protected)

For the Position:

Re-read the position description.
Review the key qualifications for the position.
Review the assignments and projects associated with the position.
Review the soft skills emphasized (ex. communication, leadership, time management, etc.)
Common Interview Questions
General Questions

Tell me about yourself.
What are your long and short range goals? How are you preparing to achieve them?
What are three of your strengths and weaknesses?
What failures have you experienced? What have you learned from your mistakes?
What do you think makes a good manager?
Why did you leave your past jobs?
How did you become interested in this field/industry?
How do you determine or evaluate success?
Do you have plans for continued study?
Tell me about a recent problem you experienced and how you solved it.
What, if any, extracurricular activities have you participated in? What did you learn from them?
Tell me about your leadership experience.
Behavioral Questions

Give me an example of how you exercised leadership in a recent situation.
Think about the changes you have seen and tell me how you handle change.
Tell me about a decision you recently made and how you reached it.
Tell me about a time when you were criticized and how you handled it.
Tell me how you use your written and oral communication skills.
Tell me about a recent team you worked on. What was the outcome? What was your role?
Tell me about a time when you were under a great deal of pressure. What was the source of the pressure and what did you do?
Organizational Interest Questions

What criteria are you using to evaluate the organizations for which you hope to work?
What do you know about our organization?
What do you see as the biggest challenge currently facing organizations such as ours?
Why did you decide to seek a position with us?
What two or three things are important to you in your job?

Reasons for Hire Questions

How have your education and other experiences prepared you for this position?
Do you think your grades are a good indication of your academic achievement?
Why do you feel we should hire someone with your background?
Describe two satisfying accomplishments.
What unique talents would you bring to this position?
Describe a contribution you made to the University of Delaware or to your current/previous company.
Understanding Illegal and Legal Questions
Illegal Questions

Are you a US citizen?
Where were you/your parents born?
What is your "native tongue?"
How old are you?
When did you graduate?
What is your birth date?
What is your marital status?
With whom do you live?
Do you plan to have a family? When?
How many children do you have?
What are your child-care arrangements?
What clubs or social organizations do you belong to?
How tall are you? How much do you weigh? (Questions about height and weight are not acceptable unless minimum standards are essential for safe performance on the job.)
Do you have any disabilities?
Please complete the following medical history.
Have you had any recent or past illnesses or operations? If yes, list them and give dates when these occurred.
What was the date of your last physical exam?
How is your family's health?
When did you lose your eyesight? How?
Have you ever been arrested?
If you have been in the military, were you honorably discharged?

Legal Questions

Are you authorized to work in the United States?
What languages do you read/speak/write fluently? (This question is only okay if this ability is relevant to the performance of the job.)
Are you over the age of 18?
List any professional or trade groups, or other organizations that you belong to that you consider relevant to your ability to perform this job.
Are you able to lift a 50-pound weight and carry it 100 yards as this is part of the job?
Are you able to perform all the essential functions of the job? (This question is okay if the interviewer has thoroughly described the job.)
Can you demonstrate how you would perform the following job-related functions?
As part of the hiring process, after a job offer has been made, you will be required to undergo a medical examination. (Exam results must be kept strictly confidential, except medical/safety personnel may be informed if emergency medical treatment is required, and supervisors may be informed about necessary job accommodations, based on exam results.)
Have you ever been convicted of ________? (The crime name should be reasonably related to the performance of the job in question.)
In what branch of the armed services did you serve?
What type of training or education did you receive in the military?
Would you be willing to relocate if necessary?*
Would you be able and willing to travel as needed for the job?*
Would you be able and willing to work overtime as necessary?*
*These questions are okay assuming they are asked of all applicants for the job.

Dress to Impress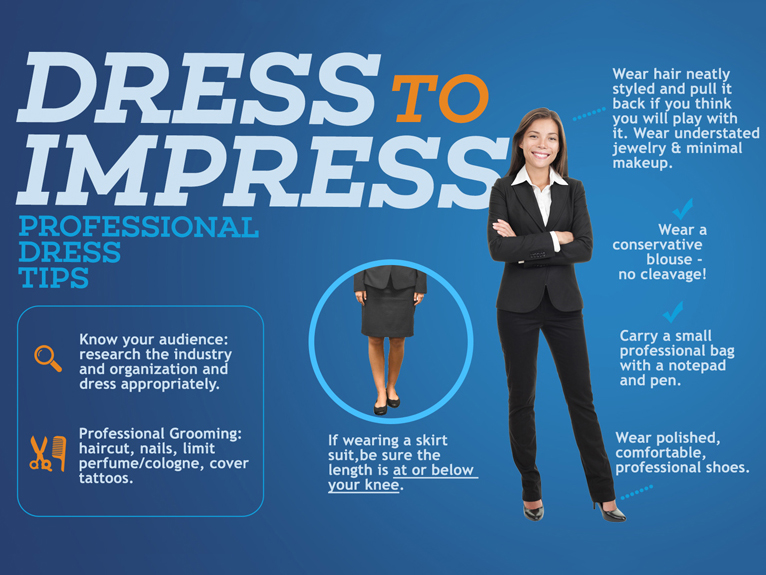 Dress To Impress: Professional Dressing Tips for Women
Know your audience: research the industry and organization and dress appropriately.
Professional Grooming: haircut, nails, limit perfume/cologne, cover tattoos.
If wearing a skirt suit, be sure the length is at or below your knee.
Wear hair neatly styled and pull it back if you think you will play with it. Wear understated jewelry and minimal makeup.
Wear a conservative blouse – no cleavage!
Carry a small professional bad with a notepad and pen.
Wear polished, comfortable, professional shoes.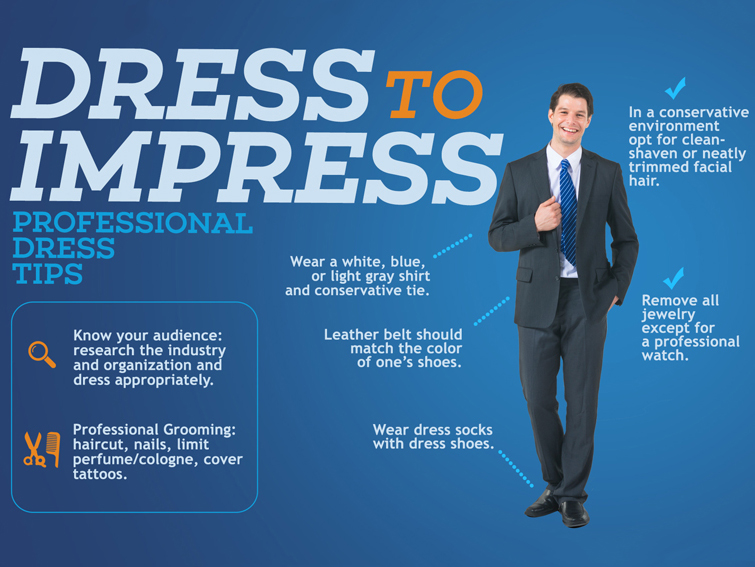 Dress To Impress: Professional Dressing Tips for Men
Know your audience: research the industry and organization and dress appropriately.
Professional Grooming: haircut, nails, limit perfume/cologne, cover tattoos.
Wear a white, blue, or light gray shirt and conservative tie.
Leather belt should match the color of one's shoes.
Wear dress socks to match dress shoes.
In a conservative environment opt for clean-shaven or neatly trimmed facial hair.
Remove all jewelry except for a professional watch.
Types of Interviews
Phone Interviews

Phone interviews are becoming a major part of the interviewing process when applying for internships, part & full time jobs, and graduate school. Employers may use phone interviews to request additional information, set up a formal interview, reschedule an interview time, or simply chat with an applicant to get a sense of their personality.
Phone Interview Tips:
Be ready 10-15 minutes in advance.
Use the restroom in advance.
Do not eat or drink during the interview.
Place your pets in a secure place where they cannot be heard over the phone.
Smile while you are talking. This will "brighten" your voice.
Review your application materials.
Tape your resume, papers, notes, and documents to the wall for easy visible access.
Skype Interviews

Skype interviews are on the rise. Like phone interviews, they are often used as part of the initial screening process and an opportunity to get a sense of the applicant's personality. It may also be the only interview for the position, particularly in long distance situations.
Skype Interview Tips:
Remember that the interviewer can see you! Set up your interview space: It's important to have a quiet, calm, and professional looking space from which to conduct the interview. Double check what can be seen behind you in the video frame.
Check to make sure there is a good internet connection and test your Skype connection prior to the interview.
Dress as if you are in the same room with the interviewer.
Speak clearly! (You may want to practice a Skype interview with a friend so you can hear and see what you sound like. You can easily clear up small issues like saying too many "ums" or speaking too softly.)
Remember to make your key points! Look at your resume and make sure to mention the points you think the employer most needs to know about you. Think of examples of how you solved problems, showed initiative, or worked independently.

In-Person Interviews

Always dress professionally whether it's a panel, group, or individual interview. Bring extra copies of your resume, practice interview questions prior to the interview, be punctual, make good eye contact, give good handshakes, and say "thank you."

Behavioral Interviews

Behavioral interviewing is designed to reveal more in-depth information than other interviewing styles.
Behavioral interview questions generally start with any one of the following phrases:

Tell me about a time when you…
Describe a circumstance when you were faced with a problem related to…
Think about an instance in which you…
Tell me how you approached a situation where…

With this type of interview, you should expect a structured interview with set questions, as opposed to a more casual style of interviewing. You will oftentimes receive questions with multiple parts or follow-up questions that probe for more details, and attempt to evaluate the consistency of your answers.
The STAR Method
The STAR method is a structured manner of responding to a behavioral interview question by discussing the specific Situation, Task, Action, and Result of the situation you are describing.

Situation: Describe the situation that you were in or the task that you needed to accomplish. You must describe a specific event or situation, not a generalized description of what you have done in the past. Be sure to give enough detail for the interviewer to understand. This situation can be from a previous job, from a volunteer experience, or any relevant event.
Task: What goal were you working toward?
Action: Describe the actions you took to address the situation with an appropriate amount of detail and keep the focus on YOU. What specific steps did you take and what was your particular contribution? Be careful that you don't describe what the team or group did when talking about a project, but what you actually did. Use the word "I," not "we," when describing actions.
Result: Describe the outcome of your actions. Do not be shy about taking credit for your behavior. What happened? How did the event end? What did you accomplish? What did you learn? Make sure your answer contains multiple positive results.
The 30-Second Commercial
Questions to Think About When Developing Your 30-Second Commercial [-]

1. What is your career goal? (usually in the form of doing something for someone)
2. What skill, strength, or experience do you have that would help you realize that goal?
3. What accomplishment proves you have that skill, strength, or experience?
4. What are you searching for in a job or internship?
5. How can you immediately benefit the organization?
Questions for the Employer
Do:

Ask about first assignments and priorities for the position.
Ask about job progression in the organization.
Ask about the office environment and company culture.
Ask about the next steps in the interview process.

Do Not:

Do not ask about salary or benefits.
Do not ask about job pressures, overtime, or morale.
Do not ask questions that are answered in the company literature.
Do not ask about vacation time.
After the Interview
After the interview, it is important to write a thank you note to the interviewer(s) to acknowledge the meeting, reiterate important points you made in the interview, or provide information you forgot to mention. This letter also shows your organization and professionalism. This may be done via email or with a handwritten card.
Send thank you notes within 24 hours after the interview.
Send thank you notes for every interview you have.
Sample Thank You Note
Dear [Their Title and Last Name]:
Thank you for interviewing me yesterday for the assistant account manager position. I enjoyed meeting you and learning more about [company/organization's name] philosophy toward advertising and business relations.
My enthusiasm for the position and interest in working for [company/organization name] have been strengthened because of the interview. [Company/organization's name] emphasis on the client and open communication policy mesh well with my own philosophy of business relationships. I think my education and experience fit the job requirements, and if offered the position, I am certain I would make a valuable addition to your team.
I want to reiterate my strong interest in working with [company/organization name]. Your company and this position offer the exact opportunity I seek. Please feel free to call me at [Your Full 10-Digit Phone Number] if I can provide you with any further information.
Again, thank you for your time and consideration.
Sincerely,
Your Name
Job & Internships
Job & Internship Searching
Searching for jobs and internships can be a daunting task, but having a strategy and knowing where to look for opportunities will make the whole process much easier.
Some individuals may graduate unsure as to their long-term career goals, while others may want to take a year or two before entering the workforce or graduate school. In those cases, there are many opportunities for students to take a bridge year (also, known as a gap year).
Regardless of your career goals the Career Services Center provides many resources to assist with your job and internship search! Keep in mind that building your skills in other areas, particularly networking, can present possible career options that you did not expect!
Job & Internship Search Strategies
Organizing Your Search

Gain a clear understanding of what you are seeking. Many believe that if you look for "anything" you will have more options, but it will have a negative impact on your search, as many employers look for individuals interested in their industry and company. Here are some questions to ask yourself in order to focus your search:

What type of position are you seeking?
What are your geographic preferences?
Have you considered work and lifestyle values?
What are your assets in terms of skills and interests?
Prepare Your Materials

Make sure your resume, cover letter, and list of references are up to date. Consider the industry in which you are applying and make sure your supplemental materials are ready (ex. portfolio).

NOTE: While it is important to have your resume up to date, it is equally important that you customize your materials to the specific job to which you are applying. Do NOT submit a standard resume without considering the skills and qualifications being sought.
Understand the Nature of the Job Market and What it Means for Your Search

The job market consists of job openings that may or may not be advertised. Approximately 80% of job opportunities at any given time are not advertised. Tapping into these jobs requires job search activities outside of simply searching online postings. Networking is an essential piece of the job search. Please see our networking guide for additional information.

Job Search Activities

Identify Job Opportunities

Use a multi-method approach to identifying job opportunities. Consider incorporating the following into your search strategy:

Professional Organizations/Publications
Directly Contacting Potential Employers (emails, letters, phone calls, site visits)
Networking
Social Media (LinkedIn, Twitter, Facebook)

NOTE: Using hashtags on Twitter for the job search is a great way to get a tweet to appear in search results or a discussion that many are watching. Some examples of hashtags to use/search include:

#jobsearch, #resume, #tweetmyjobs, #recruiting, #jobs, #jobadvice, #jobposting, #jobhunt
Also try industry specific hashtags, such as #prjobs or #salesjobs

Research Organizations

Given the competition for most positions, it is the well-qualified candidate with the most knowledge of the organization's needs and what they can offer them, who gets the job. You need to know about the job and organizational environment to decide if the job will allow you to feel productive, enjoy your work, and satisfy other high priority work values. Here are some starting points for your research:

Size of organization relative to others in same industry
Product line or services offered
Potential new markets, products, or services
Organizational structure
Formal or on-the-job training
Location of the home office and other sites
Typical career paths in your field
Number of plants, stores, or sales outlets
The company's competitors
Recent items in the news

Submit Applications

Always submit tailored resumes and cover letters for the specific positions.
Whenever possible, address your cover letter to a specific person. If you are unable to obtain a name, use "Dear Hiring Manager."
Communicate professionally at all times. No slang, shorthand, emoticons, etc.
If you find a job posting on a third-party website, check the company's website to see if the job is also posted there. If so, submit your application through the company website.

NOTE: Stay focused! Persistence and perseverance are key components of a successful job search. Remember, it's a process and finding a job does not happen overnight.

Follow-Up on Applications

It is important to follow-up on your submitted applications and any job leads you have.

Contact the company to which you applied, introduce yourself, and state that you would like to check on the status of your application.
Maintain careful records of your job search activities. Develop a system to keep track of jobs to which you have applied and your most recent communication.
Personal Branding
"In this ever-changing society, the most powerful and enduring brands are built from the heart. They are real and sustainable. Their foundations are stronger because they are built with the strength of the human spirit, not an ad campaign. The companies that are lasting are those that are authentic."
–Howard Schultz, Chairman and CEO of Starbucks
"Your brand is what people say about you when you are not in the room."
–Jeff Bezos, Founder of Amazon
The personal and professional branding process starts with discovering your brand. You can do this through self-assessment of your talents, values, passion, mission, background, experiences, and accomplishments.
Once you have discovered your brand, try to define yourself with a single word or phrase that sets you apart from the others. This is equivalent to your tagline or headline on your LinkedIn profile.
You cannot build your brand without providing compelling, authentic, supporting evidence that it exists. Make sure you have examples to prove that you have excellent communication skills, analytical experience, or natural leadership.
Lastly, you need to promote your brand through various channels including your resume, social media outlets (LinkedIn, Twitter, Facebook, etc.), blog/website, wardrobe, email, and other written communication.
Preparing for a Career Fair
Before the Fair

Have your resume reviewed by a Lerner Career Services staff member in an individual appointment or during walk-in hours (Monday-Friday, 2:00pm-4:00pm, 1 South Main St Newark, DE 19711).
Bring multiple copies of your resume to the career fair in a portfolio or professional folder.
Research the companies/organizations who are schedule to attend the fair. You want to be able to communicate intelligently with employers and ask questions.

Learn the basics: company/organization mission; products/services; location(s); competitors and niche; job/internship opportunities.

Dress in professional business attire. Your suit/shirt/blouse should be wrinkle-free/dry cleaned.
Pay attention to hygiene and grooming – avoid strong cologne/perfume/scents.
Prepare your 30-Second Commercial. Who are you and what are you seeking?

Name, education, and current or past career-related experiences.
Involvement on and off campus, internships, and experiences.
Skills, strengths, and/or accomplishments.
Identify and establish a connection with the other person – ask open-ended questions.

Practice interview question responses, particularly responses to questions such as: "Why are you interested in our organization?"
During the Fair

Develop a plan, prioritizing organizations and their table location in the career fair.
Silence your cell phone and do not chew gum.
Introduce yourself with a firm handshake, good eye contact, and a smile.
Use your 30-Second Commercial as a point of reference regarding topics you want to address. You do not need to say it all at once – allow for employer interaction.
Be aware of your body language and surroundings. Work the room.
Exchange business cards and close the conversation with a thank you before moving on.

Write notes about your conversation on the back of the business cards.

Sample Questions to Ask Employers at the Career Fair

What specific skills/qualifications does [company/organization] look for in prospective employees/interns?
What is the hiring process at [company/organization]?
As a freshman/sophomore, what qualities does your organization seek in candidates? How can I strengthen my future candidacy with your organization?
How have social, political, and/or economic changes in the industry impacted [company/organization]?
What has been your experience at [company/organization]?
What professional development and training opportunities are available for new hires?
In doing my research, I noticed ________; do you mind telling me a little bit about this?

After the Fair
Draft thank you notes. Make sure you reference the conversation you had in the note!
Be certain that your thank you notes are error-free and send them within 24 hours.
If requested by the employer, follow-up with supplemental materials.
On Campus Employment
Visit the "Jobs & Internships" page on Handshake.
Click "View All" under the "Job Type" section.
Check the "On Campus Student Employment" box to view the on campus job opportunities.
Also, many research and teaching assistant positions are offered through different academic departments. Ask your academic advisors and professors if there are any openings in your area of interest.
Salary/Compensation Negotiation
You have aced the interview, and the job offer is in hand, but the salary is not quite what you were expecting. What do you do? While your instinct may be to focus on the salary presented, it is important to consider the Total Compensation Package. Negotiating is an option, but how do you do it with grace and success? Negotiation is about how to best communicate your qualifications, values, benefits, and performance to employers in exchange for status position, money, and extra perks.
Knowledge Needed to Begin Negotiating

Skills and talents you bring to the employer.
Your life and work values.
If the company/organization has a history of negotiating.
How much you need to financially survive.

Steps in Negotiating a Job Offer

Examine the total compensation package, including the following:

Benefits (healthcare, disability, retirement, vacation, etc.)
Training Opportunities
Academic Advancement
Professional Advancement
Other Perks (car, phone, laptop, pager, etc.)

Perform salary research to determine the going rate for the position using:
Have a salary range in mind instead of one figure.

If you feel like you absolutely must divulge a range, say something like: "at present, my salary requirements are negotiable within the range of (researched range)."

Once you know an employer's range or receive an offer, be ready to communicate why you think you deserve more money.

Effectively communicate your skills and experience.

Understand what is negotiable and what is important to YOU.

Typical – salary, vacation, education/training, mentors, commuting cost, equipment (ex. laptop, phone, etc.).
Possibilities – non-standard vacation needs, who your boss is, type of computer and phone equipment, office space, work location, flexibility (ex. working from home & work hours), cost of living adjustments, relocation expenses.
Generally Non-Negotiable – 401k (including when eligibility starts), pension (including when eligibility starts), bonus, vacation increases based on years of service, medical coverage (including eye and dental), overtime compensation.

Aim for the top of your range, but be prepared to accept less. Most employers will meet you in the middle, or slightly below the middle.
Accepting a Job Offer

Clarify specific duties and responsibilities.
Have supervisor communicate performance expectations during the year.
Evaluate the full compensation package that is offered.
Ask about how your performance will be reviewed, evaluated, and compensated.
Accept the offer verbally.
Have the offer presented to you in writing within the next 2-3 business days and proofread their offer.

"My understanding of the job offer was… but it says here…"
Accept an offer for a full-time position or internship in good faith, with the full intention of honoring your commitment. Please understand that reneging on your acceptance of a job offer is highly disrespectful.
Cancel other interviews and notify professionals at other organizations where you hold outstanding offers.
If an employer offers travel reimbursement, whether or not a job is accepted, claim only fair and reasonable reimbursement from employers for travel expenses actually incurred.
Keep in mind that the same University of Delaware policies regarding on campus job offers through the Campus Interview Program apply to "on-the-spot" job offers made by employers at recruiting events off campus.
Follow-up your acceptance of the job offer with a thank you letter confirming the job title, annual salary, and start date.
Things to Remember

Do NOT enter negotiations until an offer is extended to you.
Let the employer bring up the topic of money.
Do not immediately accept an offer.
Communicate other offers.
Manage your emotions.
Negotiations are not confrontational.
Thank the employer for their response.
Negotiations can be a waiting game – nobody has told you NO!
Follow-up: "I understand things can get busy. If I have not hear from you, when should I contact you?"
Understand that a company may not be able to meet your request.

Mistakes in Negotiation

Not knowing your worth or the position's worth.
Not conducting basic salary research.
Lying about past salary history or alternative salary offer.
Failing to be realistic – can be perceived as being "greedy."
Using email or phone to negotiate salary.
Not getting the offer in writing.
Being too quick to accept an employer's first or second offer.
Playing "hard to get" when you have little or no leverage.
Networking
Networking Guidelines
What is Networking?
Creating an association of individuals who have a common interest, formed to provide mutual assistance, helpful information, and the like (dictionary.com). Think of a network of computers; the computers are continually sending information back and forth to one another and the same is true for professional networking.
Why Should You Network?
To build mutually beneficial relationships that will help you learn about careers within a particular field/industry/company and to identify potential opportunities.
LinkedIn Profile Tips
Having a LinkedIn profile is a must for any student or alum. Whether you are a pro or beginner, use the following checklist and tips for making the most of your LinkedIn.
Post a professional photo:

No cropped arms of the person holding on to you.
No group photos.
No glamor shots.
Just you, professionally dressed, looking at the camera and smiling.

Take a shot at a tagline: If you could summarize your brand in one sentence, what would it be?
Personalize your URL: Make sure you personalize the Linkedln URL with your name-not your name followed by a bunch of letters and numbers, which is standard.
Write a good summary: It might be a pain to write, but you need to have this! This is your 30-second commercial. What are your skills? Your achievements? Where do you want to go? This doesn't have to be career-related. Maybe you're just looking to connect with people.
Experience, Education, Leadership: Include it all. For the most part, this is a simple copy-and-paste from your resume. Make sure the bullet descriptions are results-oriented and data-driven. Employers don't care what you did at your job; they want to know what you accomplished.
Follow companies, groups, and schools: Recruiters have expressed that when they have an immediate opening, they will look at who follows them on LinkedIn before posting the position. It's better for them to find someone who possesses the right skills and has an interest in their company.
Follow the University of Delaware page: There are more than 114,000 UD alumni on LinkedIn. When you're on the UD page, click on the Career Insights button, where you can drill down to where alumni live and work AND see what they do.Don't hesitate – reach out: Blue Hens love to help other Blue Hen. Reach out to alumni that work or share similar interests and hear the person's story and ask for advice. That conversation could inspire a genuine relationship.
Don't hesitate – reach out: No, this is not a typo. Reach out to people by connecting to them and personalize that message so they know why you're reaching out. Hi, my name is Your Name and I am a fellow graduate or student of the University of Delaware. I saw that you work at XYZ company and have had an impressive career there. I recently applied to a position with XYZ, and I was hoping to connect to hear about your background, your experience with XYZ, and get any advice.
Networking Skills
Good eye contact.
A strong handshake.
A big smile.
Be ready with your 30-Second Commercial, and be sure to include:

Your name, education, and career-related experiences.
Your activity/involvement on and off campus.
Your skills, strengths, and accomplishments.
Establish connections and ask open ended questions.
Networking Opportunities
Almost any social occasion can be used as a networking opportunity. Make sure to take advantage of the events held on campus, popular social media platforms (ex. Linkedln & Twitter), and relevant professional organizations. For professional organizations related to your area of career interest, check out the Career Community page connected to that industry.

Networking Do's and Do Not's
Do:
Send thank you notes and follow up with connections.
Be grateful for an individual's time.
Reach out to referrals that come from your connections.
Request feedback on your resume.
Ask to stay in contact and connect on LinkedIn.
Do Not:
Ask for jobs or internships.
Treat networking like a formal job interview.
Communicate informally, like you would with your friends.
Ask personal questions.
Be pushy or assuming.
Networking Conversation Tips
Suggested Questions for Starting Conversations:

Hello my name is ____, how are you today?
How are you affiliated with UD and what brought you to this event?
What is your role in ____ organization?
How did you come to work for ____ organization?
What is one of your favorite things about your job?
How do you think most employees would describe your workplace?
Is there anyone else with whom you recommend I connect with?

Suggested Phrases for Leaving Conversations:

It's been great talking with you. Would you be open to a follow-up meeting when you next come to campus?
I appreciate your time and would like to keep in touch. May I have your contact info?
Thanks for your time. Can I send you a LinkedIn invitation to further connect?
Informational Interviews
An informational interview is a meeting with a professional in person or over the phone where you can ask questions about their career path. This is your opportunity to gather data that can be useful in your career choice and/or job search.
Setting Up an Informational Interview

Research and identify a career field of interest.
Check out UD Career Advising Network or the UD page on LinkedIn to find UD alumni and friends in those fields.
Utilize your contacts-family friends, supervisors, professors, and former employees are great people to talk to in case they may know someone who works in the field you want to learn more about.
Contact a professional organization in the field you are interested in and see if they have a mentoring program.
Identify and write to a person you are looking to connect with. When introducing yourself to professionals to whom you were referred, or are requesting an informational interview of, you will need to craft a brief introductory email or phone call. This email, and all other email communications with professionals, should convey appreciation and be written in a professional business style.

Questions for During Informational Interviews

How did you choose your career?
What academic path do you pursue to obtain your career goals?
What type(s) of positions do people with my major have in your organization?
What are some suggestions for someone who would like to work for an organization like yours?
What skills do you need to be successful in this job?
Have you made a career change? If yes, what was it?
What is the hiring procedure when vacancies occur?
Do you know of anyone else with whom I should speak?

Introductory Email Template
Good Morning,
My name is [Your Name] and I am a junior who is studying [Your Major] at UD. I noticed your profile on [Linkedln, UD CAN] and am really interested in learning more about your role at [company/organization]. If you have a couple minutes, could you share 2 or 3 of your major tasks or responsibilities? Thank you for your time and I look forward to hearing from you. You can reach me by phone or email at [Your Full 10-Digit Phone Number] and [Your UD Email Address].
Sincerely,
Your Name

Business Etiquette & Professionalism
Business Dining Etiquette
Pre-Dinner Etiquette

Arrive on time.
Call ahead if you know you will be late.
Wait 15 minutes before calling to check on the arrival status of your dinner partners.

Sitting Down

Do not place any bags, purses, sunglasses, phones, or briefcases on the table.
When you are all seated, gently unfold your napkin and place it on your lap, folded in half with the fold towards your waist.
Keep utensils in the same order they appear on the table.
Do not rearrange to accommodate yourself if you are left-handed.
Wait for all parties to arrive before beginning any part of the meal.

Place Setting

Solids on your left:

Forks, butter plate, napkin (may also be on your plate)

liquids on your right:

Glasses/cups, knives, spoons

Whether basic or formal place setting, use your utensils from the outside in.
Dessert utensils may be above the place setting or served with dessert.

Eating Styles

Continental or European Style:

Cutting the food with the right hand and using the left hand to hold the food while cutting and when eating.

American Style:

Cutting the food with the right hand and holding the food with the left, then switching hands to eat with the right hand.

Ordering

When in doubt, follow the lead of the host.
Do not order the most expensive item.
Order simply.
Avoid finger foods or foods that are difficult to eat.
In general, don't order more alcohol at a business meal.

Paying the Bill

You should prearrange how the bill is being paid.
Make sure the bill is accurate.
Tip appropriately.
18% for average service
20% or above for excellent service

General Tips

General Etiquette

Turn off cell phones.
Have proper posture.
Keep elbows off the table.
Do not apply makeup or comb your hair at the table.

Utensils

Remember to never hold a utensil in a fist.
Do not talk with your utensils.
When you are not using your utensils, set them on your plate, not the table.
Do not use both hands simultaneously to hold utensils and cups.

Napkins

Use your napkin frequently.
Do not use your napkin as a tissue.
If you have to sneeze, turn your head away from the table.

While Eating

Wait for everyone to get their meal before starting yours.
Do not talk with food in your mouth.
Do not chomp ice.
Take small bites.
Cut your salad into bite-sized pieces if necessary.
Try to pace yourself to finish at the same time as everyone else.
If you leave the table, excuse yourself and place your napkin on your seat.
When you are finished eating, place your napkin neatly to the left of your plate, and do not push your place setting away from you.

Additional Tips

Break your bread/roll into smaller pieces and butter each piece individually. Gently stir your soup to cool it instead of blowing on it.
Spoon your soup away from you.
If you have any problems with the meal, quietly bring it to the server's attention.
Email Etiquette
Whether you are emailing a professor, potential employer, supervisor, colleague, or classmate, email etiquette is a must! Follow these tips to ensure you are putting forth a professional brand in any setting.
Use your college or university email. This marks the message as legitimate and not spam. It also gives the reader an idea of who is sending the message and ensures you are not using a personal email account with an unprofessional username.
Always use subject lines. When filling in the subject line, make sure that you mention what the email is for or in regards to. You do not want it to seem like a randomly generated subject and end up in a spam folder.
Address the reader directly and do not launch straight into a request.
(ex. Dear Dr. Smith or Good Morning)
Be polite. Do not make demands, do not accuse, and remember to write please and thank you.
Be succinct. Keep your message short and to the point. Many people have hundreds of email messages in their inbox each day. Just get to the point while politely and respectfully making your request.
Specific Populations